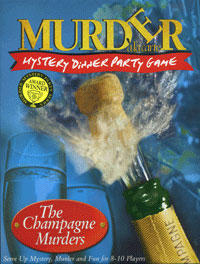 Contents
•

Party Planner with game
rules, recipes, music
and decorating tips.


•

Character booklets,
including their roles,
background information
and a few tasty secrets.
• A place card for each
character.
• Party invitations and
envelopes for each character.
• Eight secret clues.
• DVD with an introduction, scene setter, summary of events and solution to the crime.
Everyone's a suspect when murder is on the menu.
And with a Classic Detective Murder Mystery you have
everything you need to serve up a perfect murder dinner
party.First the invites, you choose which of your friends
play which devious character. Then the shopping
list, menu suggestions and recipes. Plus of course
.....a really tasty murder to solve. We guarentee that
it will be drop dead fun, and by the end of the evening
one (or more) of the suspects, your 'friends' will be
caught out as the murderer.


It's the summer of love, July 1967, and London still swings
like a pendulum do. In the home of Lord Michael
Jagged, a select group of fashonalbe young things
have spent the weekend drinking champagne and
partying. As the guests gather for dinner on sunday evening, however they are met not by their host but by the
Scotland Yard detective Austin Mc Clue, who brings them
shocking news; Lord Jagged has been murdered! and
they are the principle suspects in the policemans enquiries!
Your task is to help Mc Clue catch the killer, or, of course
to aviod being caught..
The Suspects are:

Terence Shrimp, An East End boy whose success as a
photographer has taken him into the most fashionalbe
social circles.
Martin X, A reclusive political rights campaigner from America,whose presence in England is not strictly legal.
Mary-Jane Faithless, Formerly the lover of Lord Jagged, now known as a pop star in her own right.
Wiggy, The most famous and glamorous model in the world, for this week at least.
Oliver Steed, Actor ranconteur and hell-raiser.
Kitty Killer, She looks like a sex starlet, and claims to be a
journalist, but everyone knows that really she's a secret agent.
Brian Sewer, The brilliant wine critic of the Evening Times whose snobbery annd arrogance have endeared him to nobody. Unfortunately his arrogance is justified.
Tamara Fara-Bucktooth, Famous for being famous, she is a regular fixture on the London social scene and is somehow related to Lord Jagged.
'Champagne' Charlie bunson, A high living entrepeneur whose connections with the London underworld have already attracted the attention of Scotland Yard.
Babs Crayfish, The girlfriend of 'Champagne' Charlie and a former night-club hostess, she now claims to be a legitimate actress.

Ages Teen to Adult.

8-10 Players
Out of Stock