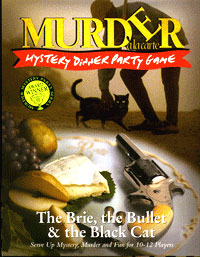 Contents
•

Party Planner with game
rules, recipes, music
and decorating tips.


•

Character booklets,
including their roles,
background information
and a few tasty secrets.
• A place card for each
character.
• Party invitations and
envelopes for each character.
• Eight secret clues.
• C D with an introduction,
scene setter, summary of
events and solution
to the crime.
Everyone's a suspect when murder is on the menu.
And with a Classic Detective Murder Mystery you have
everything you need to serve up a perfect murder dinner
party.First the invites, you choose which of your friends
play which devious character. Then the shopping
list, menu suggestions and recipes. Plus of course
.....a really tasty murder to solve. We guarentee that
it will be drop dead fun, and by the end of the evening
one (or more) of the suspects, your 'friends' will be
caught out as the murderer.


October 1942

You have been invited for dinner at the Offical Residence
of the Deputy Major of Casablanca. Morocco is a colony
of France governed by the Vincy French regime. The guest
of honour was to have been Frances greatest living mime
artist. He fails to arrive, He has been murdered.
Those present at the dinner including the murderer:-

Hughes Le Grandebutt,. Deputy Mayor of Casablanca.
Edith Le Grandebutte, his wife a former dancer.
Nicole Le Grandebutt, their daughter.
Otto Von Pinkelwürst, a Gestapo officer, fanatical and
possibly mad.
Kirk Ransom III, an American who runs Kirk's African Café in downtown Casablanca.
Countess Bogov, an exiled Russian aristocrat.
Monsieur Oily-Carte, booking agent for Moulin Bleu in Paris.
Pierre Payanski, a 24 year old half Russian poet.
Cherie Boot, a French cabaret singer in her mid 20's.
Ingrid Pith, a Danish art dealer.
Seamus O' Hack, a dissolute Irish jouranalist.
Pia Fedora, a Spanish cabaret star.


Ages Teen to Adult.

10-12 Players
Out of Stock