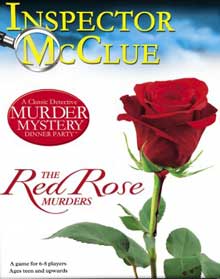 Contents
•

Party Planner with game
rules, recipes, music
and decorating tips.


•

Character booklets,
including their roles,
background information
and a few tasty secrets.
• A place card for each
character.
• Party invitations and
envelopes for each character.
• Eight secret clues.
• CD with an introduction, scene setter, summary of events and solution to the crime.
NEW FOR 2010

Everyone's a suspect when murder is on the menu.
And with a Classic Detective Murder Mystery you have
everything you need to serve up a perfect murder dinner
party.First the invites, you choose which of your friends
play which devious character. Then the shopping
list, menu suggestions and recipes. Plus of course
.....a really tasty murder to solve. We guarentee that
it will be drop dead fun, and by the end of the evening
one (or more) of the suspects, your 'friends' will be
caught out as the murderer.


In the dog eat dog world of the 1950's Hollywood there's only room for one top dog and he's the cigar chomping agent to the stars, Rick Toad. So when he's found dead in suspicious circumstances, floating face down in a pool of his mansion, surrounded by 100 scattered scented roses, the whole film world is shocked to its core.

There's no show business like show business, they say, but when it comes to murder, a suspect is just a suspect.

Your task is to help Mc Clue catch the killer, or, of course
to aviod being caught..
The Suspects are:

Marilyn Mansfield - blonde bombshell
Rock Houston - rough, rugged and rowdy male star now running for politics
Marlon mean - most famous teenager in the world, now 27 but still making a career out of scree rebellion
Princess Kelly of ruritania - the sophisticated star of romantic comedies
Madame veld - clairvoyant to the stars
Wayne fonda - a rock and roll singer
Mae vest - author, actress and activist
Salvador dilly-dally - europe's most famous surrealist artist


Ages Teen to Adult.

6-8 Players
In Stock